CUFI Launches Effort in Support of Pompeo Nomination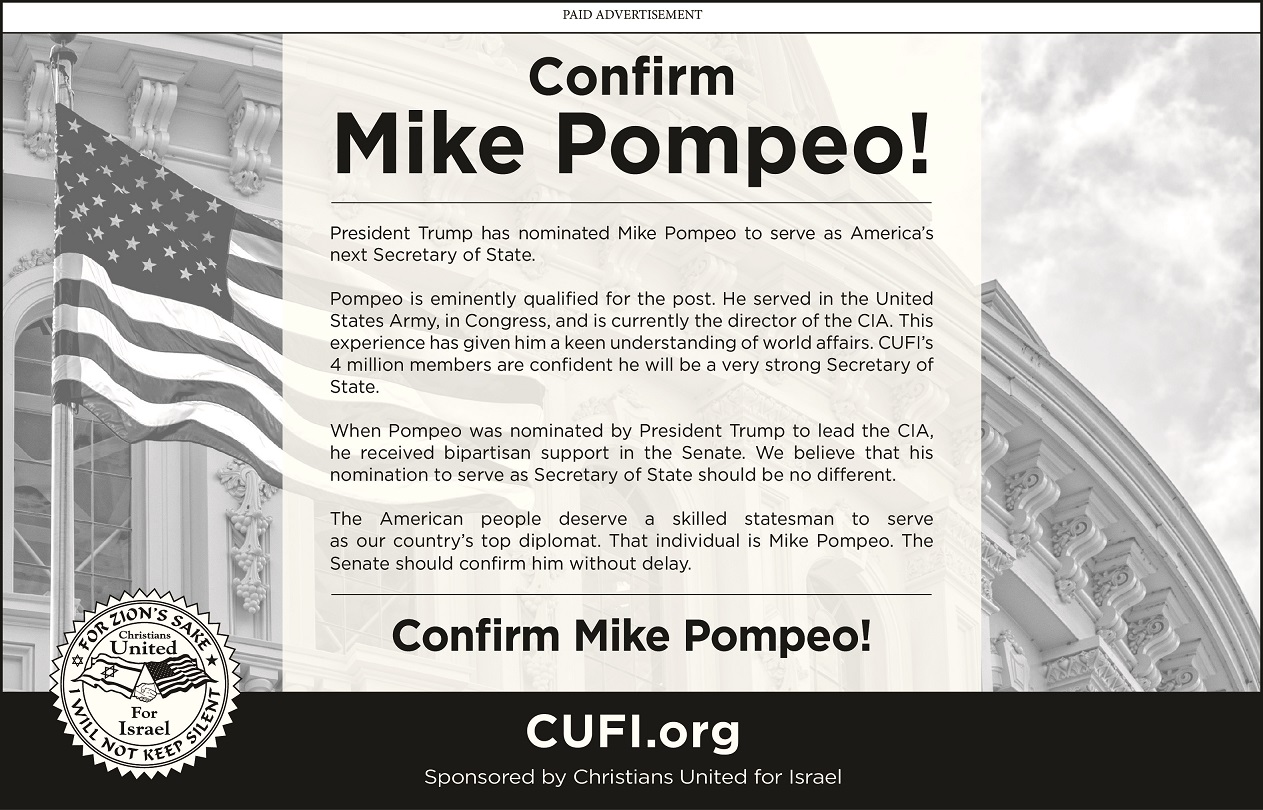 April 23, 2018
WASHINGTON – On Monday, Christians United for Israel (CUFI), the nation's largest pro-Israel organization, announced it had launched a campaign in support of CIA Director Mike Pompeo's nomination to serve as Secretary of State.
"We need and deserve a qualified, competent and experienced statesman to serve as our nation's top diplomat. Mike Pompeo is that individual. This is not the first time we've seen a limited group of senators seek to derail one of Pres. Trump's nominees, but just as with Amb. Friedman's nomination, the American people's voice will be heard, and the President's nominee will be confirmed," said CUFI founder and Chairman Pastor John Hagee.
At the core of the campaign are action alerts distributed to all 4 million CUFI members. The action alerts ask CUFI members to call and email their senators and express support for Pompeo. Within 24 hours of distribution, the initial action alert generated more than 20,000 emails to senators.
"Pompeo has spent much of his life serving his country. His leadership of the CIA, time in Congress and military service, have given him a keen understanding of world affairs. He will be a very strong Secretary of State," the action alerts note.
Additional elements of the campaign include a full scale lobbying effort and an ad in today's edition of Roll Call.
"Our lobbying team is working around the clock to ensure Mike Pompeo is confirmed, and we are confident we will be successful. In fact, within hours of our campaign's launch last week, Sen. Heidi Heitkamp came out in support of the nomination. We are communicating with additional offices on both sides of the aisle, and we look forward to additional democrats following Sen. Heitkamp's lead," said CUFI Action Fund Chairwoman Sandra Parker.
The CUFI Action Fund is a non-profit 501 (c) (4), bipartisan organization dedicated to ensuring the millions of Christian Zionists across the country have their voices heard in our nation's capital each-and-every day. To learn more please visit www.cufiactionfund.org.
With more than 4 million members, Christians United for Israel is the largest pro-Israel organization in the United States and one of the leading Christian grassroots movements in the world. CUFI spans all fifty states and reaches millions with its message. Each year CUFI holds hundreds of pro-Israel events in cities around the country. And each July, thousands of pro-Israel Christians gather in Washington, D.C. to participate in the CUFI Washington Summit and make their voices heard in support of Israel and the Jewish people.