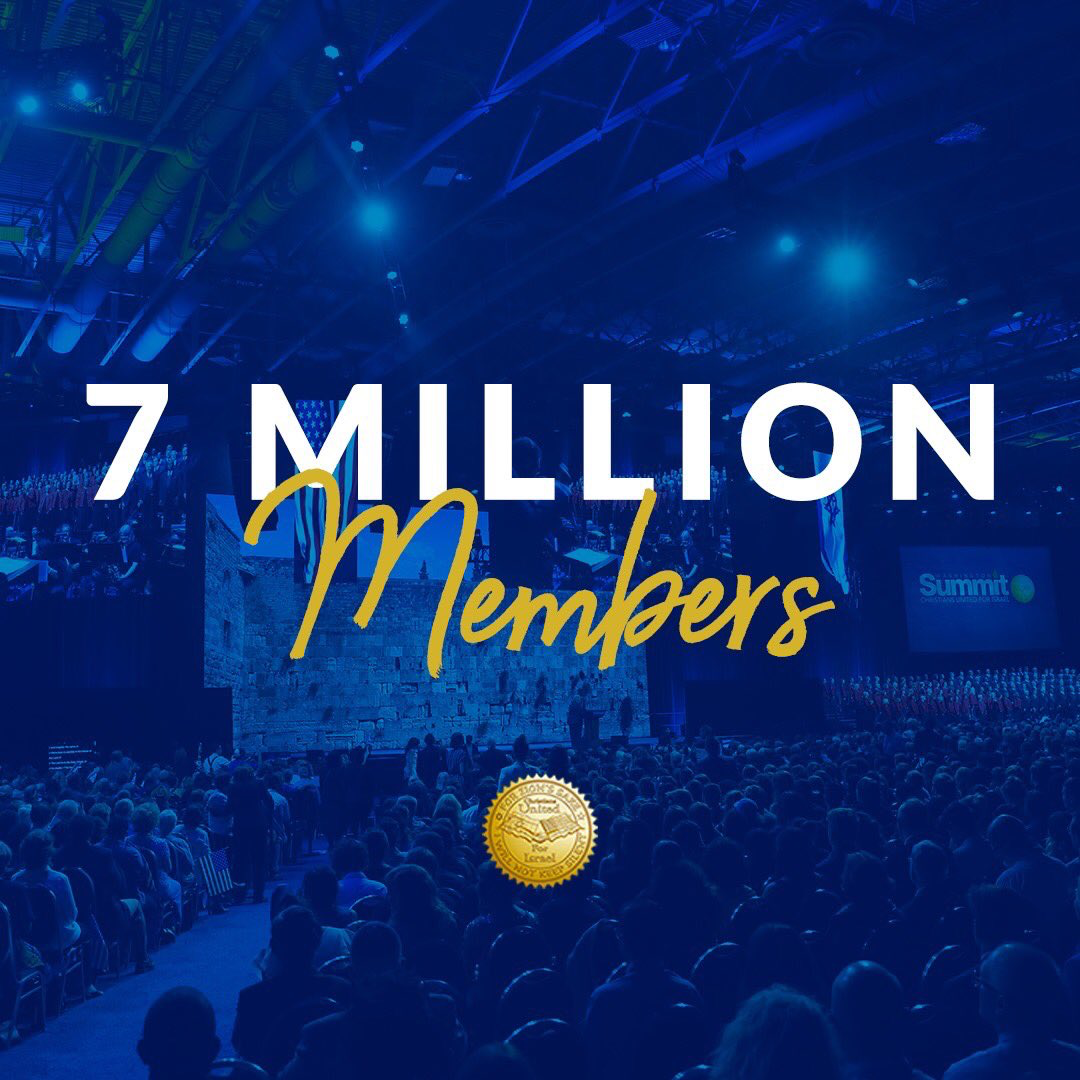 CUFI Crosses 7 Million Members As Washington Summit Welcomes U.S., Israeli Leaders
July 8, 2019 WASHINGTON – Christians United for Israel (CUFI), the nation's largest pro-Israel organization, announced during the opening session of its Washington Summit today that it has surpassed seven million members. The announcement comes on the same day that more than 5,000 Summit attendees heard from Prime Minister of Israel Benjamin Netanyahu, Vice President Mike Pence, Secretary of State Mike Pompeo and National Security Adviser Ambassador John Bolton.
"Fourteen years ago, I invited 400 of America's leading evangelicals to come to Cornerstone Church in San Antonio to give birth to CUFI. Today, by the grace of God, we are seven million plus standing united in defense of Israel and the Jewish people," said CUFI founder and Chairman Pastor John Hagee to thunderous applause from the gathered attendees.
Following the announcement, Vice President Pence said "the work of Christians United for Israel is more important than ever before." Later, in assessing the fervor of the thousands of pro-Israel Americans, Secretary Pompeo said, "it is truly heartening as Secretary of State to know that there are so many Americans cheering President Trump's mission to make our relationship with Israel the strongest that it has ever been."
CUFI's growth has been rapid and is being recognized at the highest levels of the Trump Administration and on Capitol Hill. More than one million new members have joined CUFI in just the past three months and tomorrow, thousands of CUFI members from across America will lobby their Members of Congress in support of three pieces of legislation: the Anti-Semitism Awareness Act (S.852), the Eastern Mediterranean Security and Energy Partnership Act (S.1102 & H.R. 2913) and the Countering Hezbollah in Lebanon's Military Act (S. 1886 & H.R. 3331).
"The speed with which the CUFI is growing was unfathomable just a few years ago, but with each success, each event and each piece of news coverage we are able to reach a greater number of people. Standing with Israel is a Christian value and I anticipate deep, strong and active Christian support for the Jewish state for decades to come," said CUFI co-executive director Shari Dollinger.
With more than 7 million members, Christians United for Israel is the largest pro-Israel organization in the United States and one of the leading Christian grassroots movements in the world. CUFI spans all fifty states and reaches millions with its educational message.