CUFI Applauds Pompeo Confirmation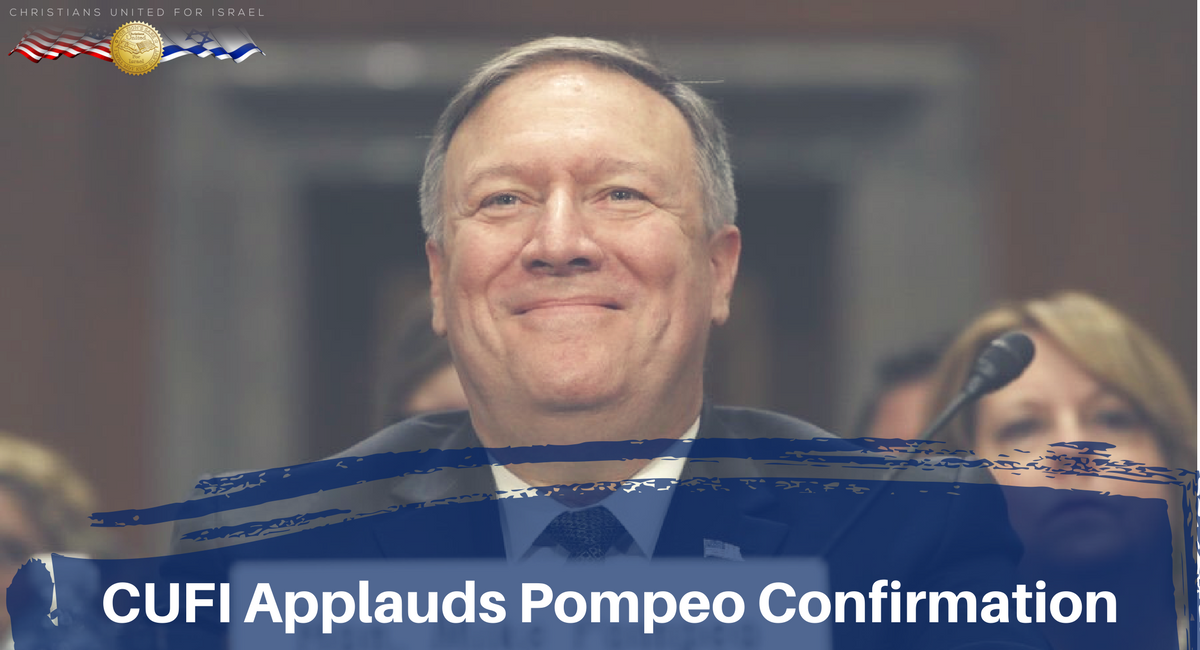 Christian Zionist group drives more than 60,000 emails to Senate offices in support of Pompeo
WASHINGTON – On Thursday, leaders of Christians United for Israel (CUFI), the nation's largest pro-Israel organization, applauded the Senate's confirmation of Mike Pompeo to serve as Secretary of State.
The bipartisan vote in favor of the nomination comes on the heels of a rigorous grassroots and lobbying campaign waged by the Christian Zionist group. In addition to asking members in key states to call their senators' offices to express support for the nomination, CUFI's action alerts generated more than 60,000 emails into Senate offices.
"Our membership is the backbone of our organization and they rose to the occasion to ensure the President's nominee was confirmed. When a large, committed group of Americans stands together and speaks with one unequivocal voice, our leaders listen," said CUFI founder and Chairman Pastor John Hagee.
With the grassroots mobilization serving as the foundation, the CUFI Action Fund engaged in an intensive lobbying effort in support of the nomination which resulted in a multitude of direct contacts between the Christian Zionist group and key Senate offices.
"After the patently unnecessary opposition to Ambassador Friedman's nomination, it was clear that some in the Senate were determined to derail any of President Trump's nominees, regardless of how qualified they were. In the end, Friedman is our Ambassador to Israel and Pompeo is our Secretary of State. We will not tolerate partisan obstructionism," noted CUFI Action Fund Chairwoman Sandra Parker.
The CUFI Action Fund is a non-profit 501 (c) (4), bipartisan organization dedicated to ensuring the millions of Christian Zionists across the country have their voices heard in our nation's capital each-and-every day. To learn more please visit www.cufiactionfund.org.
With more than 4 million members, Christians United for Israel is the largest pro-Israel organization in the United States and one of the leading Christian grassroots movements in the world. CUFI spans all fifty states and reaches millions with its message. Each year CUFI holds hundreds of pro-Israel events in cities around the country. And each July, thousands of pro-Israel Christians gather in Washington, D.C. to participate in the CUFI Washington Summit and make their voices heard in support of Israel and the Jewish people.