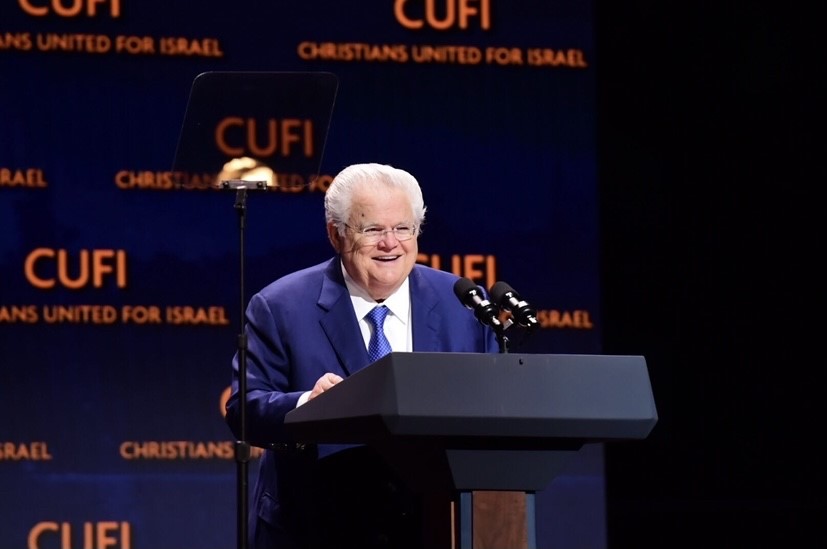 Christians United for Israel Marks 15 Years Since Founding
02/08/2021 SAN ANTONIO – On Saturday, Christians United for Israel (CUFI), the nation's largest pro-Israel organization, marked the 15th anniversary of its founding. The organization, which recently crossed the 10-million-member threshold, continues to grow in size, strength and stature.
"Fifteen years ago, we set out to awaken the sleeping giant of Christian Zionism and we have achieved that goal and more. CUFI reaches millions with its biblical message of support for Israel and communicates the justness of Israel's cause to church leaders, elected officials and average Americans each-and-every-day," said CUFI founder and Chairman Pastor John Hagee.
Since its founding, CUFI has held thousands of pro-Israel events in cities and towns across the country, trained more than 4,000 students on America's college campuses, and taken over 1,000 pastors to the Jewish state. The group has also achieved a number of policy victories including the opening of the US Embassy in Jerusalem and US recognition of Israeli sovereignty over the Golan Heights.
CUFI has also been a pivotal force in advancing numerous pieces of legislation including the Never Again Education Act, the Taylor Force Act, and theSanctioning of the Use of Civilians as Defenseless Shields Act.
The organization's leaders attribute their success to God's grace and staying true to CUFI's biblical mandate by remaining a single-issue, non-proselytizing, nonpartisan organization.
"None of what CUFI has achieved and will achieve is possible without God's blessing. We feel strongly that by adhering to the biblical directive that we bless the Children of Israel, we can continue to reach new heights. We will always stand with Israel and, regardless of party affiliation, we will always stand against those who would do harm to Israel and the Jewish people," Hagee added.
One of the most important components of CUFI's mission has been extending a hand to the Jewish community and building relationships that were once believed unlikely at best.
"CUFI's contribution to modern Jewish-Christian relations cannot be overstated. We stand with Israel and the Jewish community not just on good days, but when challenges arise as well. And as a result of this now unshakeable friendship, CUFI is playing its part in pushing back the rising tide of antisemitism that has been sweeping across our nation," said CUFI co-executive director Shari Dollinger.
With more than 10 million members, Christians United for Israel is the largest pro-Israel organization in the United States and one of the leading Christian grassroots movements in the world. CUFI spans all fifty states and reaches millions with its educational message.