Baltimore Ravens' Michael Pierce Partners With Israel Collective
Defensive Tackle Unboxes Custom-Made Cleats In Support Of Israel Collective As Part NFL's My Cause, My Cleats Campaign
December 11, 2018 WASHINGTON – As a part of the National Football Leagues' My Cause, My Cleats campaign, Baltimore Ravens' defensive tackle Michael Pierce today unboxed his custom-made cleats in support of the Israel Collective, an initiative of Christians United for Israel (CUFI) focused on building vibrant relationships between American Christians and Israelis.
Pierce is one of the many influential Christian millennials who have traveled with the Israel Collective to learn about Israel's history and customs and strengthen the bond between the United States and Israel.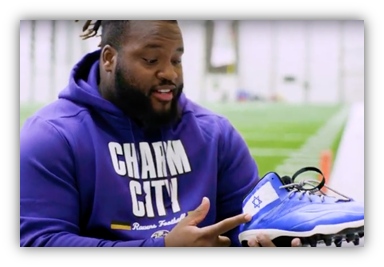 Explaining his decision to highlight the work of the Israel Collective through My Cause, My Cleats, Pierce said: "Israel Collective has been a life-changing thing for me. … The message for me is just the oneness and connectedness I feel with that land. … To go over there and see the difference and to see just exactly how the culture is, I went to Shabbat dinner, I just enjoyed their company and learned so many different customs."
He added: "It's definitely something I hope people read about and maybe go over … and to be able to see exactly what's going on."
"That's exactly what we're working to achieve," CUFI founder and Chairman John Hagee said of the Israel Collective. "By bringing role models like Michael to the Holy Land, we've been able to excite young Christians about the vibrant, democratic Israel that was founded on the biblical values we cherish. We appreciate his devotion to the Jewish state and are honored to have him represent the Israel Collective – and Israel itself – next month."
Pierce will wear his Israel Collective-inspired cleats on December 16, 2018, during the Baltimore Ravens' home game against the Tampa Bay Buccaneers.
The Israel Collective, an initiative of Christians United for Israel, was founded in 2014 by a team of young Christian leaders dedicated to building vibrant relationships between American Christians and the people of the Holy Land.
With more than 4.5 million members, Christians United for Israel is the largest pro-Israel organization in the United States and one of the leading Christian grassroots movements in the world. CUFI spans all fifty states and reaches millions with its message. Each year CUFI holds hundreds of pro-Israel events in cities around the country. And each July, thousands of pro-Israel Christians gather in Washington, D.C. to participate in the CUFI  Washington Summit and make their voices heard in support of Israel and the Jewish People.