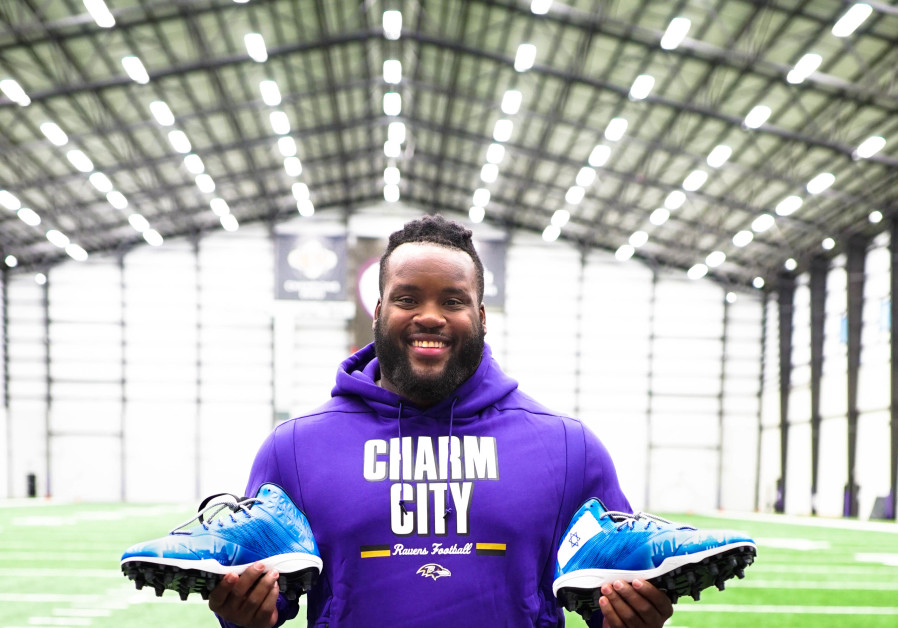 NFL player pays tribute to Israel with his cleats
Baltimore Ravens player Michael Pierce was deeply affected by his trip to Israel earlier this year. So much so, that he's chosen to honor the country – and the organization Israel Collective – in the upcoming "My Cause, My Cleats" campaign ran by the NFL.
As part of  the campaign, more than 800 NFL players will don cleats on the field this week that highlight charities of their choosing.
Pierce, a native of Alabama, unveiled his blue-and-white cleats in a video posted online by the Israel Collective nonprofit.
"Israel Collective has been a life-changing thing for me," says Pierce in the video, showing off his new cleats. "Having the Israel flag in front and center was paramount for me – I needed that to be right where it is."
Israel Collective is a branch of Christians United for Israel, and works to build relationships between young American Christians and the Jewish state, regularly bringing groups to tour the Holy Land. In March, Pierce was part of an NFL delegation that visited Israel with the organization.
"The message for me is just the oneness and the connectedness I feel with that land," Pierce said. The group visited the Western Wall, went to the Jordan River and played football with children and adults with disabilities at the Shalva Center in Jerusalem.
"To go over there and see the difference and to see just exactly how the culture is: I went to Shabbat dinner, I just enjoyed the company and learned so many different customs and things that they do that I've just never been aware of," he said. "I hope that people will read about [this] and then maybe go over there – if they're able to of course – and to be able to see exactly what's going on."
Read More: Jerusalem Post