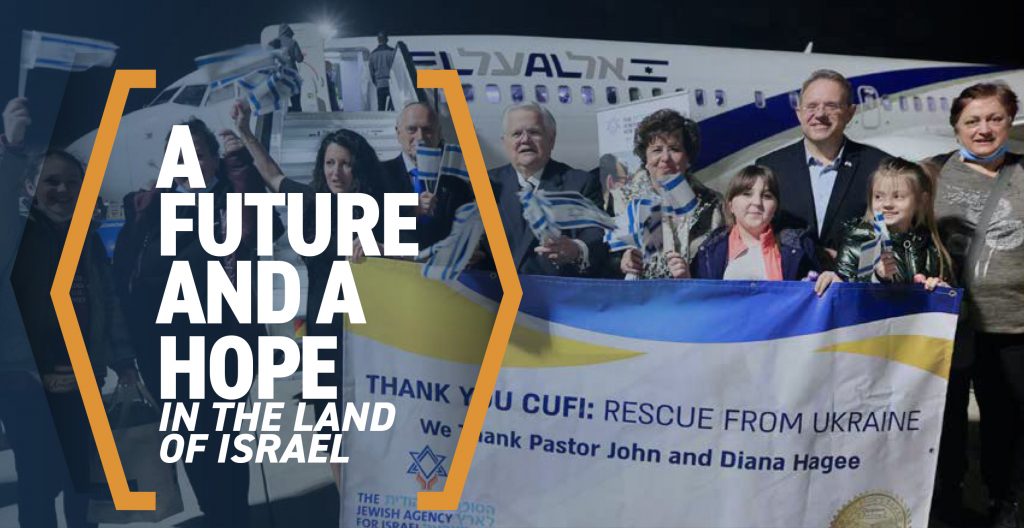 During one of the greatest crises of our day, the Lord has raised up Christians United for Israel to be a beacon of light and an instrument of comfort for the Apple of His Eye. Shortly after Russia invaded Ukraine, CUFI began rallying its members to give their best gift to help rescue as many Jews as possible from certain danger and looming death and bring them to the safe haven of Israel.
Since early March, CUFI and partnering ministries have worked diligently with the Jewish Agency to help rescue over 1,500 Ukrainian Jews from the jaws of this ravaging war—but there are thousands more working to make their way to the borders of Poland, Moldova, Hungary, and Romania, trying desperately to flee certain danger. When the Jews of Europe sought refuge from Hitler's Final Solution during WWII, most nations of the world shut its doors to them. However, now, the Jewish people have a country to call their own—the nation of Israel!
NEVER AGAIN WILL THE JEWISH PEOPLE BE WITHOUT A HOME AND NEVER AGAIN WILL CHRISTIANS REMAIN SILENT WHEN OUR JEWISH BRETHREN ARE IN DANGER!
CUFI needs your help to save the lives of even more Ukrainian Jews by giving them a future and a hope in the land of Israel.
With your gift of any amount, you will not only receive a beautiful piece of artwork, created by Udi Merioz, one of Jerusalem's beloved artists, you will also be giving an additional art piece to each Olim — Jewish immigrants who have made Aliyah to Israel from Ukraine.
One hundred percent of your gift will go to rescuing more Jews from this horrific warzone and bringing them safely to Israel. We have helped save thousands, but thousands more need our help, and they need it now.
Thank you for partnering with CUFI in this righteous mission. Your generous support is helping save the lives of mothers, children, and grandparents, who would otherwise be in harm's way while trapped in war-torn Ukraine. God will hold us accountable for what we do and don't do in this critical time.