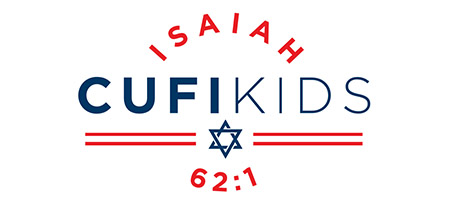 Our mission is to teach the next generation
the importance of loving and blessing Israel.
Educating children
about the biblical and moral reasons to support Israel
+ CUFI Kids YouTube Channel
Our new CUFI Kids YouTube Channel hosts a variety of CUFI Kids videos, teaching resources and updates.
+ Nearpod Interactive Lessons
Nearpod is an educational tool that transforms kids' mobile devices into powerful learning tools.
Providing resources
that can be used to teach children the importance of loving Israel
+ FREE CUFI Kids Curriculum
Our curriculum is filled with videos, illustrations, activities and games making it easy for any church or school to use.
Hosting & supporting
A Night to Honor Israel Jr
& Camp CUFI events
+ What is NTHI Jr?
Your church can host their own Night to Honor Israel Jr too. Available now is a NTHI Jr event planning guide filled with teachings, activities, crafts and games.
+ What is Camp CUFI?
Kids from across America join us every summer for a one of a kind educational experience. Attendees participate in exciting games, interactive teachings and field trips that teach them how to love and bless Israel.