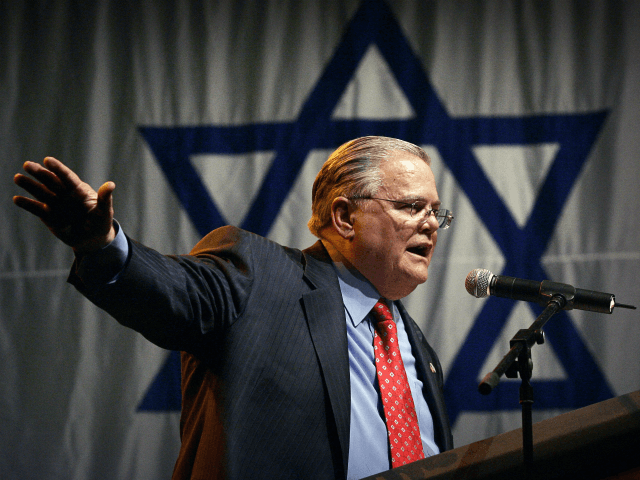 EXCLUSIVE – Pastor John Hagee Urges Rand Paul to Remove Hold from Israel Aid Bill
Pastor John Hagee, founder and national director of Christians United for Israel (CUFI), urged Sen. Rand Paul (R-Ky.) to remove his hold from critical legislation that would allow the U.S. to continue providing military assistance to Israel.
"We are confident we will find a way to get this passed," Hagee stated. "It's absolutely a must. We will get this done."
Paul used his senatorial powers to place a hold on the U.S.-Israel Security Assistance Authorization Act, which would put into law a 2016 agreement between the Obama administration and Israel to provide the Jewish state $38 billion in military assistance over 10 years. The legislation passed the House and the Senate, but Paul is blocking the bill from going to a final Senate vote.
Paul, known for his opposition to foreign military aid, released a statement clarifying his position on the bill:
I'm not for foreign aid in general, if we are going to send aid to Israel it should be limited in time and scope so we aren't doing it forever, and it should be paid for by cutting the aid to people who hate Israel and America. This is a stance I've taken for many years.
CUFI is one of several pro-Israel groups that launched a campaign urging Paul to end his hold on the Israel aid legislation. AIPAC and U.S. Jewish groups also advocated for Paul to remove the hold.  If Paul does not end his objection, the legislation would need to be tacked on to another future bill in order to pass.
Hagee told Breitbart News that CUFI sent out action alerts resulting in tens of thousands of emails and calls into Paul's office on the matter. Hagee's group also spent $100,000 in digital and television ads, and took out full-page ads in Kentucky's three largest newspapers for three consecutive days urging Paul to allow the bill to proceed.