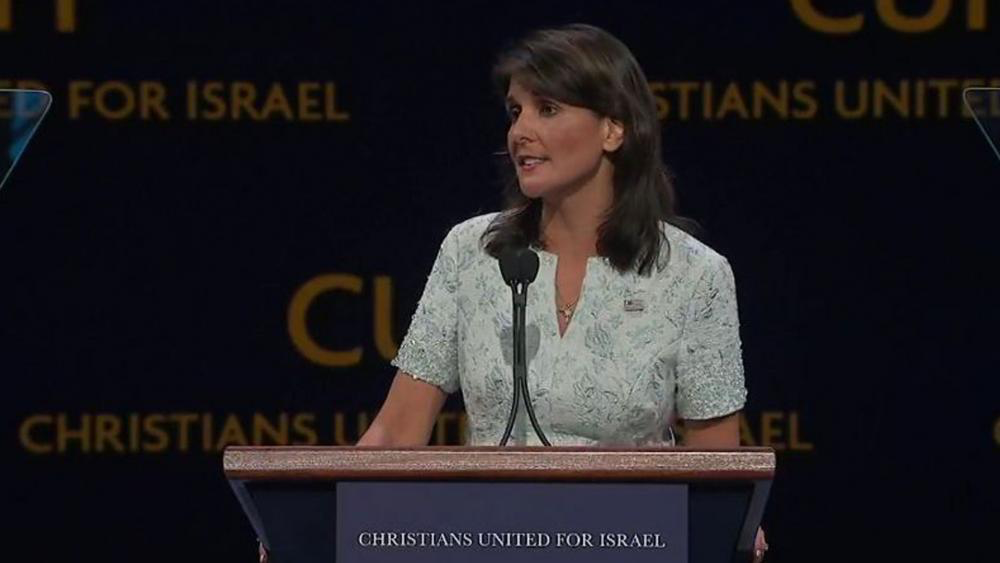 CUFI Summit Honors Haley, Slams Hamas and Palestinian Terror
In addition to showcasing a major pro-Israel constituency, Christians United for Israel (CUFI)'s 13th annual summit, which took place from July 23-24, emphasized the contrast between the current White House administration and previous ones, with Israel's ambassador to the United States hailing the Trump administration as the best ally Israel has ever had.
"Over the decades, Israel has been blessed with strong supporters in Congress on both sides of the aisle. We have been blessed with presidents, Democrat and Republican alike, who were steadfast friends of Israel," Israel's Ambassador to the United States Ron Dermer said in front of a packed, energetic, and flag-waving crowd in Washington on Monday. "We have been blessed with Cabinet secretaries and senior officials who were stalwart champions of the US-Israel alliance."
"But there has never been a US administration more supportive of Israel than the Trump administration," continued Dermer. "This is an administration that sees Israel as an ally and that treats Israel as an ally."
The Iranian regional and nuclear threat, America's transfer of its embassy from Tel Aviv to Jerusalem, and de-funding US assistance to the Palestinian Authority were the main issues addressed by Dermer and other speakers at the event, which was attended by approximately 5,000 people, according to CUFI co-executive director Shari Dollinger.
Other speakers on Monday included Israeli Prime Minister Benjamin Netanyahu (live via satellite), retired British Col. Richard Kemp, and Nikki Haley.
Read More: The Algemeiner