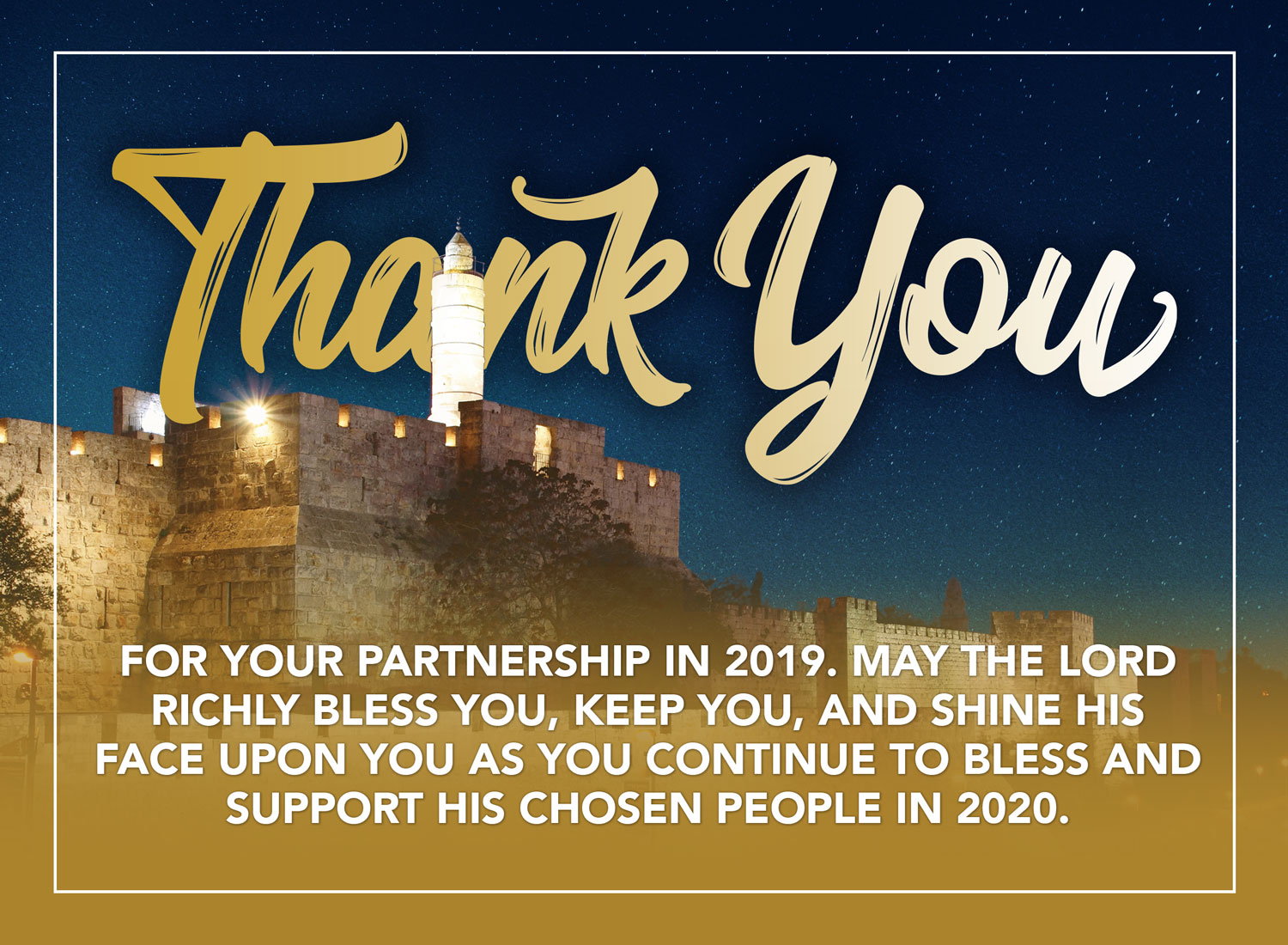 2019 Annual Review
Dear CUFI friends and family,
14 years ago I knew there was a void in the pro-Israel community. Every year since then I watch in total gratitude at what God is doing today through the answer to that void – CUFI. Today, we are 8 million strong, and only beginning!
Looking back with gratitude and ahead with anticipation, I can't think of a better way to share my excitement than to celebrate all that was accomplished in 2019.
You are at the core of the CUFI family, and without your faithfulness to Israel through the mission that God has set before CUFI it wouldn't be possible to see these victories come to pass. You are protecting and defending God's people from attacks across the nation. Your sacrifices are playing a key role in our grassroots efforts – united we are changing history!
Thank you for saying 'yes' to this Holy cause – for Israel, for CUFI, and for our nation.
I pray that 2020 is full of health, joy, and prosperity for you, your endeavors, and all those you love.
Pastor John Hagee
---
GRASSROOTS ACTIVISM
---
You helped CUFI grow to 8 million members standing boldly for Israel!
400 events hosted in churches, on college campuses, and in communities across the nation to educate thousands on the importance of standing with Israel.
Over 2 million people signed the Shine the Light pledge to oppose anti-Semitism in all its forms.
2019 DC SUMMIT
Thousands of Christians in one unified voice signifying that we will not be silent on the issues facing Israel today or ever again!
Speakers included:

Prime Minister Benjamin Netanyahu
Vice President Mike Pence
Secretary of State Mike Pompeo
Then National Security Advisor John Bolton
Ambassador David Friedman
Senators Roy Blunt, Marco Rubio, Ted Cruz, Tim Scott
Representatives Michael McCaul and Dan Crenshaw
Major League Baseball LegendMariano Rivera
Dennis Prager
An array of Middle East experts

CUFI was covered by a diverse spread of news outlets.
Over 650 student activists were equipped to return to campuses across the nation with training and zeal to spread the Pro-Israel message.
The Congressional Liaison program brought representatives from hundreds of districts who are developing ongoing relationships with their local governmental leaders.
Three pieces of legislation were introduced during our DC Summit, all of which saw ongoing movement throughout the year, and one being signed into law as an executive order by President Trump

The individuals of CUFI were heard loudly as one voice through the halls of Capitol Hill, and one thing was clear – the bond between America and Israel has never been stronger!
---
EDUCATING THE NEXT GENERATION
---
CUFI ON CAMPUS
CUFI on Campus student activist created over 300 educational outreach events across the nation.
Thousands of students were reached with the CUFI pro-Israel message
You brought a record number of student activists to be trained at the Washington DC Summit – over 650!
The first double Bonhoeffer Fellowship of 75 student leaders were trained in Israel and returned motivated and educated to activate other students across the nation.
---
ISRAEL TRIPS
---
ISRAEL COLLECTIVE
To date, 445 influencers have experienced Israel through the Israel Collective program on 28 trips.
Seven trips hosted over 200 people in 2019, representing millions of viewers being touched by their diverse spheres of influence, in these key areas of culture:

Ministry
Professional athletics
Inner-city youth workers
Christian recording artists
Conference speakers
Academics
Washington DC-based leaders

These trips shared the truth of Israel with nine unique, millennial-friendly and award winning films, including a long-form documentary showing the truth of Israel through the eyes of top Christian hip-hop artists.
IC films won "Official Selection" at several film festivals, including the Four Corners Film Festival, the Canadian International Faith & Family Film Festival, The Melbourne Short Film Festival, Santa Barbara Jewish Film Festival and the Australian Inspirational Film Festival.
Israel Collective is reaching the key leaders and equipping them with the materials to share what they've learned with their peers and audiences.
PASTOR'S TRIPS
Over 300 pastors were educated in Israel through 10 trips with the knowledge to return dedicated and motivated to share this crucial message with their congregations and communities.
CUFI ON CAMPUS
75 student activists traveled to Israel to be trained on the ground and equipped to return and stand against anti-Semitism in all its forms across the nation on their campuses.
---
IMPACT ON U.S. FOREIGN POLICY
---
CUFI ACTION FUND
CUFI Action Fund has been working hard to advance each piece of legislation that was presented at the 2019 Washington DC Summit.
In spite of vocal opposition and a Congressional gridlock, President Trump issued an executive order combating anti- Semitism on America's college campuses by signing The Anti-Semitism Awareness Act.
The president's order mirrors and expands upon the policies outlined in the Anti- Semitism Awareness Act. CUFI founder and Chairman Pastor John Hagee and CUFI Action Fund Chairwoman Sandy Parker were at the White House ceremony when President Trump signed the order.
In response to Turkey's rising malevolence, in 2019, CUFI Action Fund promoted the Eastern Mediterranean Security and Energy Partnership Act to enable enhanced cooperation between the United States and the Mediterranean democracies most affected by Turkey's radical, anti-western policies.
At the end of the year, this important legislation was included in two large authorization/appropriations bills, checking off another 2019 CUFI Action Fund policy priority.
A CUFI Action Fund-supported provision is included in the National Defense Authorization Act which requires the Pentagon to report on the LAF's relationship with Hezbollah approximately six weeks before the 2020 CUFI Washington Summit. We expect to see significant progress on this front in the year ahead.
CONGRESSIONAL LIAISON
CUFI Congressional Liaison team saw incredible growth this year, bringing hundreds of dedicated representatives to the DC Summit who are building ongoing relationships with their local elected officials throughout the year!
Grew to 520 Congressional Liaisons
Represent 250 congressional districts in 50 states.
Over 330 CLs traveled to Washington DC to do a significant lobbying push for CUFI's top policy priorities
Defeated BDS in Kentucky through passage of anti- BDS legislation.
---
PRESS
---
NEWS OUTLETS
CUFI's press outreach had more than 1,000 mentions in the media
Coverage in outlets such as:

Bloomberg News
The associated Press
Fox News
Breitbart
The Hill
The Washington Examiner
Politico
The Federalist
CBN
The Christian Post
The Daily Wire
Times of Israel

CUFI advanced our position as a thought-leader through authoring multiple op-eds featured in Fox News, JNS, The Times of Israel, and the Gatestone Institute.
SOCIAL MEDIA
Grew an average of 2 million followers across all platforms
Reached over 188 million people
Shared over 6,200 posts
THE WATCHMAN
Preparing to air its 152nd episode
The Watchman airs three times per week on TBN including a prime time slot at 10:30 pm EST on Friday nights
In 2019 the Watchman debuted on the Fox Business Network every Sunday night
Episodes bring firsthand, on-the-groundperspective of the existential threats facing Israel and by extension, America and the West from the Iranian regime and its proxies.
Guests include:

the U.S. Ambassador to Israel, David Friedman
Special Assistant to President Trump,Paul Teller
Mike Huckabee
IDF top spokesman, Jonathan Conricus
Baseball Hall of Famer, Mariano Rivera
Professional athlete, Tim Tebow
---