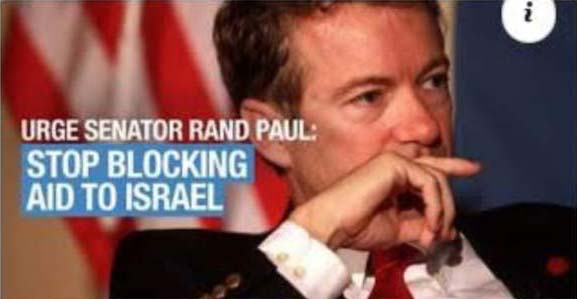 AIPAC Attacking Sen. Rand Paul for Blocking US Aid to Israel
Last week, Sen. Rand Paul (R-Ky.) placed a hold on the 2018 US-Israel Security Assistance Authorization Act, which is part of the 10-year, $38 billion in military aid deal signed between Israel and the Obama White House.
A hold is a parliamentary procedure permitted by the Standing Rules of the United States Senate which allows a senator to prevent a motion from reaching a vote on the Senate floor. A hold doesn't have to be announced publicly. If the party leadership agrees, then the senator's hold is known as a secret or anonymous hold.
According to the Washington Free Beacon, the American Israel Public Affairs Committee (AIPAC), along with Christians United for Israel (CUFI), have launched a Facebook ad attack exposing Paul as the main stumbling block before the reauthorization. CUFI reportedly invested heavily in ads targeting Kentucky users, telling them how their Senator is hurting Israel's security.
An official at a pro-Israel organization in Washington told the Beacon that "given the overwhelming bipartisan support that has been shown for this legislation, this resistance is inexplicable. This is hardly the time to hold back support for our ally in view of the immediate terrorist threats it faces from Hamas, Hezbollah, and Iran."
The senator's move is part of his ongoing feud with the Trump White House over his measure to suspend US arms sales to Saudi Arabia and Bahrain over their massacres of civilians in Yemen. His move was rejected by the administration and its congressional allies, who are concerned with blocking Iran's proxy militias in Yemen. His hold on the Israeli aid package may be part of a negotiation—or retaliation—which means that the only way to force his hand would be by exposing him to his pro-Israel voters.
Read More: Jewish Press