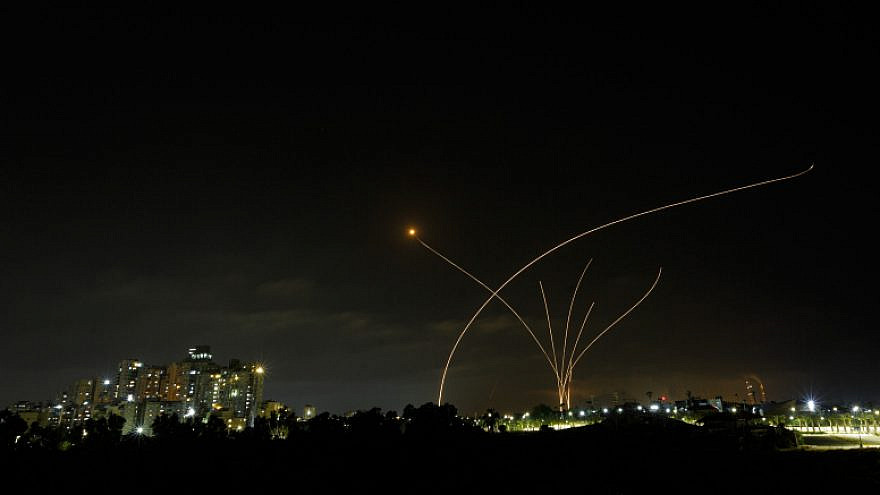 Gaza rocket fire 'clear violation' of international law, assert US Jewish groups
American Jewish leaders reacted to the escalating situation in Israel on Monday with all condemning the rocket fire on Israel by Gaza terror groups.
American Jewish Committee CEO David Harris urged international support for Israel amid the rocket fire.
"The world needs to clearly and unambiguously recognize the nature and aims of Palestinian terrorist organizations, and specifically, their desire to wipe Israel off the map," he said. "Hamas and its well-armed, Iranian-supported allies in Gaza are fundamentally opposed to Israel's very existence and have employed rockets, missiles, incendiary balloons and other weapons to attack it."
Harris said Hamas is falsely claiming that Israel was trying to change the status quo on the Temple Mount, and that Palestinian Authority leader Mahmoud Abbas further exasperated the tense situation by inciting Palestinians to defend the Al-Aqsa mosque just days after canceling planned Palestinian elections.
"Let's be clear. Since 1967, Israel has protected freedom of worship for all religions in Jerusalem—a right denied to Jews during Israel's first 19 years when Jordan was in control of the territory," said Harris. "As in the past, Israel must take appropriate action to respond to the violence triggered by Hamas and supported by the P.A. If any other sovereign nation were being attacked as Israel is today, would its response be any different than Israel's?"
He added that Hamas is using a legal dispute over a few homes in Jerusalem to spark a "wider conflict," and that all Israelis, regardless of background, are being "forced yet again to seek shelter from the deadly threats of Palestinian violence."
The Conference of Presidents of Major American Jewish Organizations also condemned the rocket barrage, balming the "willful incitement by the Palestinian Authority and Hamas that is instigating violence and unrest in Jerusalem."
"We stand in solidarity with Israel as she continues to face lawlessness and rioting spurred by Palestinian leaders who are shameless fanning the flames of hate and violence with apparent disregard for the safety and security of Palestinians and Israelis alike," said Dianne Lob, William Daroff and Malcolm Hoenlein of the Conference.
The umbrella group added that the rockets constitute a "clear violation of international law and must be condemned by the international community at once."
In a statement, Christians United for Israel (CUFI) lamented that as Israelis celebrate Jerusalem Day, "Palestinian terrorists continue to fire a barrage of rockets targeting innocent men, women and children within Jerusalem and communities surrounding Gaza. We condemn these assaults, and unequivocally stand with the Jewish people and our nation's greatest ally as she continues to fight for her right to exist in peace and security."
The American Jewish Congress said it, too, stands in solidarity with Israel as "rockets from terrorist groups Hamas and Islamic Jihad continue to indiscriminately target Israeli cities."
Importantly, it noted that "Israel has a right to protect itself and its citizens."
Read More: JNS