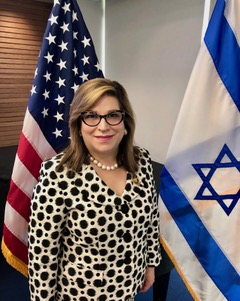 Becky Keenan
National Hispanic Outreach Coordinator
Becky Keenan was born in Stuttgart, Germany. At the age of fourteen, she experienced a defining moment through Scripture that changed her life. She has been in full-time ministry since 1982 and is a well-known international speaker.
An issue of utmost importance for Pastor Becky is educating Christians concerning their moral obligation to support Israel. This conviction stems from her father who planted in her the seeds of love for the Jewish people after serving in the U.S. Army in the North African theater, Italy and Germany in WWII, where he observed the treatment of Jews at the hands of the Nazi regime.
In May 2011, Pastor Becky hosted the first bilingual Night to Honor Israel event in Houston, TX. Pastor John Hagee was the keynote speaker. In addition, she successfully organized an interfaith NTHI at Congregation Beth Yeshurun, the largest conservative synagogue in the United States.
Becky has traveled to Israel as a guest of Nefesh B' Nefesh, the AIEF and the Jewish Institute for National Security Affairs (JINSA). She led a delegation of influential community leaders at the invitation of Israel's Foreign Ministry. For years, Becky served as a member of AIPAC's National Council. She has participated in IsraAID humanitarian missions and sat on its US advisory board. For years she was a participant of the American Jewish Committee's Community of Conscience. She was appointed as a Commissioner to the Texas Holocaust and Genocide Commission by Governor Greg Abbott.
Pastor Becky founded One with Israel in 2011. OWI is an educational grassroots movement of individuals, churches and organizations that have made a commitment to demonstrate support for the Jewish community and the State of Israel. Her tenure ended in 2022. She is also the Spanish voice of internationally known Bible teacher Joyce Meyer. As such, Becky's voice is heard throughout Latin America by millions on a daily basis.
Together with her husband Joe, Becky leads Gulf Meadows Church, a nondenominational congregation in Houston, Texas. She is the proud mother of two amazing young adults, Katie (26) and Joey (24).
En Español
Becky Keenan nació en Stuttgart, Alemania. A la edad de catorce años experimentó un cambio y definición a través de las Escrituras que renovó su vida. Ella ha servido en el ministerio de tiempo completo desde el 1981. Becky es una oradora internacional reconocida y viaja a través del mundo compartiendo en una variedad de foros cristianos y seculares.
Un asunto de gran importancia para Becky es educar a cristianos a cerca de su obligación moral de apoyar a Israel y la comunidad judía. Ésta convicción se originó en su padre quien plantó las semillas de amor hacia el pueblo judío tras haber servido en el Ejército Norte Americano en el norte de África, Italia y Alemania en la Segunda Guerra Mundial. Fue allí donde él observó el trato dado a los judíos a manos del régimen Nazi.
En mayo del 2011, la Pastora Becky fue la anfitriona de la primera Noche de Honra por Israel bilingüe en la ciudad de Houston, Texas. El Pastor John Hagee fue el orador principal. Además de este evento, organizó exitosamente una Noche Honra por Israel en la Congregación Beth Yeshurun, la sinagoga conservadora más grande en los EUA.
Becky ha viajado a Israel como invitada de Nefesh B' Nefesh, el AIEF y el Instituto de Asuntos de Seguridad Nacional (JINSA). Encabezó una delegación de líderes VIP de la ciudad de Houston por invitación del Ministerio de Asuntos Exteriores del Estado de Israel. Por años Becky ha servido como miembro del Consejo Nacional de AIPAC. Ella ha participado en misiones humanitarias con IsraAID siendo miembro de su junta asesora en los EUA. Forma parte de la Comunidad de conciencia del AJC (Comité Judío Americano) y recibió un señalamiento por parte del gobernador del Estado de Texas, el Honorable Greg Abbott, como Comisionada del Comité de Texas del Holocausto y Genocidio.
La Pastora Becky Keenan fundó One with Israel (Uno con Israel) en 2011. OWI es un movimiento educativo que consta de individuos, iglesias y organizaciones que han hecho  el compromiso de demostrar apoyo por la comunidad judía y el Estado de Israel. Su mandato finalizó en febrero del 2022. En este momento Becky Keenan es la Coordinadora Nacional Hispana de Cristianos Unidos por Israel.
Ella también funge como la voz hispana de la reconocida maestra internacional de la Biblia, Joyce Meyer. Como tal, la voz de Becky es oída a través de Latinoamérica por millones diariamente.
Junto con su esposo Joe, Becky dirige Gulf Meadows Church, una iglesia independiente en Houston, Texas. Es la orgullosa madre de dos maravillosos hijos adultos, Katie(26) y Joey (24).