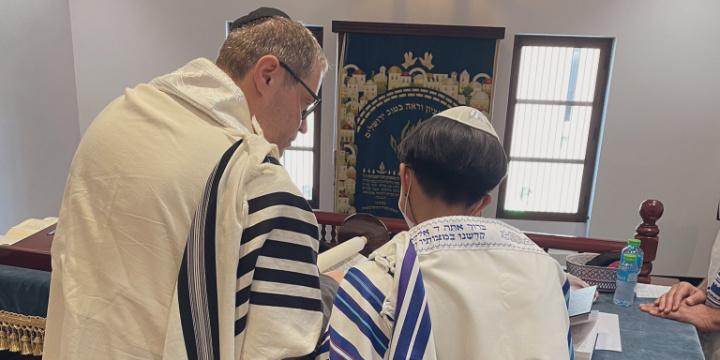 Bahrain Celebrates First Bar Mitzvah in 16 Years
The first bar mitzvah in Bahrain in 16 years was held over the weekend at the House of Ten Commandments, the oldest and only operational synagogue in a Gulf Cooperation Council country.
The bar mitzvah boy read from the Torah scroll that former senior White House adviser Jared Kushner commissioned in honor of Bahrain's King Hamad bin Isa Al Khalifa.
The ceremony was facilitated by the Association of Gulf Jewish Communities, a people-to-people network of Jewish communities in GCC countries dedicated to developing Jewish life in the region.
The bar mitzvah was part of a weekend of festivities for the AGJC that started with a Shabbat dinner in Manama on Friday evening. The dinner was attended by many diplomats, Bahrainis and residents of other GCC countries who flew in for the event. The weekend concluded with the group hosting the first authentic Sephardic "Selichot" prayer service in the GCC.